Pop-up Kitty and Puppy Holiday Card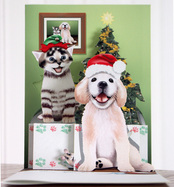 3D pop-up Christmas puppy and kitten card. The card is carefully crafted to fold flat into a 4 3/8 x 5 3/4 envelope (envelope included) and to pop forth with bright and cheerful holiday images.

The kitty and pup have planned well for a Christmas celebration including decorations and presents for the gift exchange! Uh Oh, there seems to be a party crasher peeking out from under the table; the little mouse is probably hoping snacks will be served!

The front of the card says "Wishing You a Yappy Christmas..." and the inside reads "and Purrrrfect New Year!!"
---
Pop-up Owl Birthday Card Harry Potter Inspired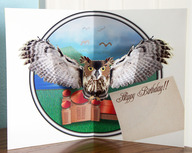 3D Popup Owl Birthday Card with 4 3/8 in by 5 3/4 inch envelope.
The card opens to an owl flying over a castle near a lake among rolling hills. If you look behind the owl you get a birds eye view including a small games keeper's cabin near the lake.

A piece of parchment "delivered" by the owl reads "Happy Birthday!' and allows space for you to include your own message. The front of the card reads "Special Owl Delivery". This is a fun card for the special witch or wizard in your life.
---
Pop-up Octopus "I Heart You" Card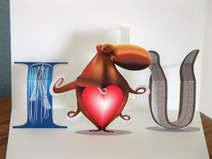 Pop-up Valentine card with anemone, jellyfish, octopus and eel. 4 3/8 by 5 3/4 inch envelope included.

How do sea creatures say Happy Valentine's day? "I <3 U" of course. This is a fun card inspired by the sea anemone photo I took years ago. Just a little Photoshopping created a lovely anemone heart for the front of the card!

---